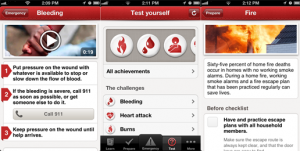 Heroes Happen has the inside look at the FREE American Red Cross First Aid App which now gives everyday heroes to ability to help others in an emergency with insight and knowledge they may not have had to handle a particular medical emergency.
While we can never predict when an emergency will happen, the ability to act quickly and confidently will create the best possible outcome for the person injured.
Heroes Happens is the creation of California Living TV series creator and Party Girl Diet author Aprilanne Hurley, and an Inside Look TV web-property spotlighting people, organizations and non-profits helping to make the world a better place to live, work and play.

"We are imensly grateful to American Red Cross Lifesaving Organization Hero Award Winners Captain Maggie McDonogh and the Angel Island Tiburon Ferry for their ongoing community support and involvement.
It is because of Angel Island Tiburon Ferry's generosity that our coverage of many meaningful Community Public Service TV Campaigns, Volunteer Programs, and Non-Profit Organizations has been possible!" ~ Aprilanne Hurley, author, TV personality, creator of  Heroes Happen ~ Find The Heroes Happen Program.
The following offers an Inside Look at some of the amazing community programs and non-profit organizations  we have been able to spotlight in the media thanks to Captain Maggie & The Angel Island Tiburon Ferry:
Captain Maggie and The Angel Island Tiburon Ferry are Founding Supporters of the "Find The Hero in You" Volunteer Awareness Public Service Campaign now online @ HeroesHappen.org ~ "Find the Hero in You!" This "Volunteer Match-Making" Website and PSA Campaign encourages people of all ages to "get out and volunteer today!"
Watch Captain Maggie in the "Heroes Happen ~ Your Mission" PSA Now
….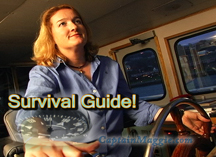 "Be Prepared Today" is an evergreen PSA Campaign and Online "Survival Guide" & ToolkitCaptain Maggie supports wholeheartedly with a special emphasis on the importance of having a Family Emergency Plan in place BEFORE a disaster strikes, as well as organizing the emergency supplies needed for your family and pets.
Please check out the valuable online resources provided on CaptainMaggie.com and Be Prepared for you and your loved ones BEFORE a disaster strikes TODAY!
…..
….
Lila Ranch (above) is a Marine Mammal Center Adopt A Seal "Poster Seal"
Captain Maggie and The Angel Island Tiburon Ferry are founding sponsors of  the California Living TV Public Service Announcements on the Marine Mammal Center's Adopt A Seal Program.
The Marine Mammal's "Adopt A Seal Program" a fun and creative way for people to help through the symbolic "adoption" of marine mammals.
American Red Cross 2012 Life Saving Hero Organization Award recipients Captain Maggie McDonogh & Angel Island Tiburon Ferry.
For more information on any of the programs above, nominate someone you believe is an "Everyday Hero" in your community, and to find out how you can get involved with the Heroes Happen Volunteer Programs and multimedia campaigns please feel free to call us @ 415.209.0722.
bay cruise, bay cruises, captain maggie, angel island tiburon ferry, Angel Island Ferry, Captain Maggie, tiburon ferries, Angel island ferry in the community, bay area non-profits, community giving, maggie mcdonogh, Maggie McDonogh, Adopt a Seal marin, Marine Mammal Adopt a Seal,

There are a number of wonderful organizations specializing in helping our youth develop into confidant, smart, caring, young adults.
Fire Squirts is a one-week camp experience organized by The Novato Fire Foundation offer Marin County's at-risk youth a "chance of a lifetime"adventure.
Campers learn teamwork, life building and life saving skills, self confidence, and trust in others.
Get an "INSIDE LOOK" at the Novato Fire Foundation's Fire Squirts Camp:
Play 5 min. Fire Squirts Video
Play 60 sec. Program Highlights
…
…
…
….
For more information on how you or your organization can support the Fire Squirts Program please contact:
Fire Marshall Bill Tyler
(415) 878-2690
95 Rowland Way
Novato, CA 94945