8/26/2011 – San Francisco, California: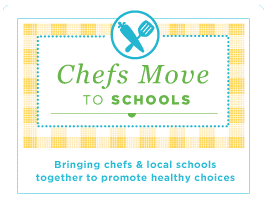 San Francisco Bay Area Author and Natural Foods Chef Aprilanne Hurley SFN Joins First Lady Michelle Obama's Mission to "End Childhood Obesity Within a Generation" as Volunteer Chef with The First Lady's "Chefs Move to Schools" Initiative.
"The childhood obesity epidemic we are facing in America is no secret," offers Aprilanne Hurley, published author and Certified Specialist in Fitness Nutrition, "it's what actions are being taken to cure this epidemic that are the real headline makers – like First Lady Michelle Obama's  "Let's Move! and "Chefs Move to Schools" programs. These collaborative, community-oriented initiatives were started by The First Lady with the goal of "solving childhood obesity within a generation so that children born today will reach adulthood at a healthy weight."
For the First Lady's "Chefs Move to Schools" program – Mrs. Obama calls on chefs to get involved by adopting a participating school to help educate kids about food and nutrition. "It's a great  community 'match-making' service and tremendous resource support system for schools and chefs interested in making a difference," says Hurley.  "I am excited to be working with the Nutrition Services Department and students in the Marin County Tamalpais Union High School District this fall with the First Lady's program," reports Hurley, adding, "Chefs Moves to Schools gives me the opportunity to share my passion for nutrition and love of cooking with fresh, local ingredients."
Margan Holloway, Director of Student Nutrition Services at Tamalpais Union High School District  is very pleased with the "match" as well.  "We have a super health-conscious group of students who want to be involved in our school's nutrition program," offers Holloway, "and teaching students the importance of  cooking with local, seasonal ingredients  is paramount." Holloway adds,  "this 'way of life' helps our surrounding communities and local farmers prosper, and offers a healthy, cost effective approach for everyone looking to 'eat healthy' within a manageable budget!  In Nutrition Services we constantly look at ways we can match the nutritional guidelines for our student's meals with interesting and tasty dishes – while staying within our budget."
"My mission is to make learning about nutrition and cooking healthy fun and entertaining for these kids," adds Hurley, who has recently appeared live on ABC, CBS, NBC, and FOX to discuss the benefits of her healthy lifestyle plan outlined in her new book "The Party Girl Diet."
Designed as a 4-part class series to be repeated at different schools each semester, Hurley's "Mission Eat Right" ~ Teens in The Kitchen Series will teach students how to identify local food resources; cook with fresh, seasonal ingredients; and discover the health benefits of  cooking with fresh herbs they will grow themselves.  Hurley's students will engage in a fun hands-on gardening project, and participate in an original "Healthy Teen-Recipe Contest."  "Plus," Hurley adds, "thanks to Margan Hollway's support for this program, one of the healthy lunch recipes we create as a class will become an ongoing menu option in the high school's cafeteria.  This way, the entire student body and faculty will have the opportunity to taste and enjoy a healthy recipe we created from fresh, local, seasonal ingredients in this class!"
For more information on Aprilanne Hurley's "Mission Eat Right" ~ Teens in the Kitchen Series please call Aprilanne directly @ 415.209.0722, or email her @ april@aprilanne.com.  For more information on First Lady Michelle Obama's Chef's Move to Schools Program please visit:  letsmove.gov/chefs-move-schools
The First Lady's Let's Move! " Campaign "will help to impact the health of children by providing schools, families and communities simple tools to help kids be more active, eat better, and get healthy."
"We are going to need everyone's time and talent to solve the childhood obesity epidemic and our Nation's chefs have tremendous power as leaders on this issue because of their deep knowledge of food and nutrition and their standing in the community. I want to thank them for joining the Let's Move! Campaign" – First Lady Michelle Obama.